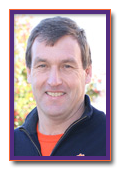 Head Coach, Camp Director
Mike Noonan
Head Coach Mike Noonan will begin his tenth season at the helm of the Clemson men's soccer program in the fall of 2019. In his first nine seasons leading the Tigers, Noonan has brought the program back into the national spotlight. Clemson has reached the NCAA Tournament in four of the past five years, including an NCAA Elite Eight berth in 2016 and a spot in the NCAA National Championship game in 2015, when the Tigers finished as the national runner-up. Noonan also led the program to an ACC Tournament Championship in 2014, and the Tigers had the #1 RPI in the nation at the end of the 2016 regular season.
During his nine seasons at Clemson, Noonan has collected a 92-62-28 record. In his career spanning four different schools, Noonan has amassed 316 wins (316-176-69). The 316 wins put him in the top 20 of all active coaches in career wins, and his career win percentage is in the top 30 among active coaches.
Over the past six seasons, 11 of Noonan's players have been selected in the MLS SuperDraft, including a school-record four who were taken in the 2016 draft. Five former Tigers are currently on MLS rosters, while a total of 14 are playing in professional leagues across all levels.
Not only have Noonan's teams been successful on the field, but they have also seen incredible success in the classroom. The Tigers have broken team grade point average records in five consecutive semesters, including the spring of 2016 when they set not only the spring semester GPA record, but also the program's all-time GPA record, with a 3.50 cumulative team GPA. In the past nine seasons, Noonan has had 30 players named to the All-ACC Academic Team.