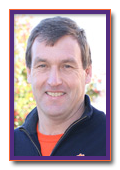 Head Coach, Camp Director
Mike Noonan
Mike Noonan became the fifth coach in the 75-year history of Clemson Soccer in 2010. He comes to Clemson from Brown University of the Ivy League. In 2009, the Bears finished with an 11-3-5 record overall and advanced to the NCAA Tournament's second round. He took Brown to the NCAAs four of the last five years, including to at least the second round of the tournament six different years. He guided Brown to the Elite Eight of the NCAA Tournament in 1995 and 2000.
Noonan has proven to be among the nation's outstanding coaches, compiling an impressive 160-77-31 record in 15 years at Brown. He has a 224-116-1 overall mark in his 21 seasons as a collegiate head coach. He also coached at Wheaton College and the University of New Hampshire.
Ten of Noonan's players have been selected in the annual Major League Soccer draft. All three members of Noonan's class of 2005 signed contracts with the MLS at the conclusion of their Brown careers. Noonan's 1995 team set a school record for victories with a 16-4 record and reached a high of number-three in the nation at one points, the highest ranking in Brown history.