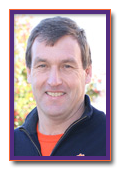 Head Coach, Camp Director
Mike Noonan
Head Coach Mike Noonan recently completed his tenth season at the helm of the Clemson men's soccer program in the fall of 2019. In his first 10 seasons leading the Tigers, Noonan has re-established the program as a national power. Clemson has reached the NCAA Tournament in five of the past six years, including NCAA Elite Eight appearances in 2016 and 2019, along with a spot in the NCAA National Championship game in 2015. In 2019, Noonan oversaw the nation's most prolific offense, with the Tigers scoring 70 goals, tallying 214 points, winning the ACC Atlantic Division and being ranked No. 1 in the country in the first poll of November. The 2019 season also saw Robbie Robinson win the MAC Hermann Trophy, validating Robinson's position as the nation's best college soccer player.
During his ten seasons at Clemson, Noonan has collected a 110-64-30 record. In his career spanning four different schools, Noonan has amassed 334 wins (334-178-71). The 334 wins put him in the top 20 of all active coaches in career wins, and his career win percentage is in the top 30 among active coaches. Noonan's 100th win at Clemson came against the Furman Paladins, the same team Noonan's first victory at Clemson was against, via a 2-0 victory. Noonan has been joined by Associate Head Coach Phil Jones the past 11 seasons, including every match at Clemson.
Over the past seven seasons, 14 of Noonan's players have been selected in the MLS SuperDraft, including a school-record four who were taken in the 2016 draft. Robbie Robinson, who signed a Generation adidas contract prior to the MLS SuperDraft, was selected first overall in the draft, making him the first Clemson men's soccer player, and second Clemson athlete in school history, to be selected first overall in their respective sport's professional draft.
Not only have Noonan's teams been successful on the field, but they have also seen incredible success in the classroom. The Fall 2019 semester was the Tigers' eleventh-consecutive semester having a GPA greater than 3.00. In the past ten seasons, Noonan has had 34 players named to the All-ACC Academic Team.