2017 Elite Camp I (Grades 9-12) - Includes Rising 9th Graders

Mon, June 26, 2017 to Thu, June 29, 2017
The 2017 Elite Camp I will be hosted at Historic Riggs Field, located on the beautiful campus of Clemson University. Historic Riggs Field is one of the most elite college soccer facilities in the country and just recently underwent a $1 million dollar upgrade to the playing surface.
The campers are divided up into teams and the focus is on match playing in a competitive tournament setting. The camp will also provide daily seminars covering strength and conditioning for the elite player, the psychology of success, time management skills for the college athlete, short- and long-term goal setting, positive self motivation and how to succeed in the admissions and recruiting process. The staff will do a college evaluation for each camper, and a college recruiting book will be compiled and given to each of the visiting college coaches.
This is a rigorous 'elite' program that does not guarantee a college scholarship or admission to an elite school.
Please provide Parent's email address when registering because we will be sending important important information leading up to camp
text in bold
***PLEASE EMAIL ALL REQUIRED INFORMATION PRIOR TO CAMP TO:
info@theclemsontigersoccercamp.com
- RECENT PHYSICAL (WITHIN PAST 2 YEARS)
- FRONT/BACK COPY OF INSURANCE CARD
- SIGNED PARENT PERMISSION/LIABILITY FORM
- HOUSING (IN DORMS) + MEALS (IN DINING HALL) INCLUDED IN PRICE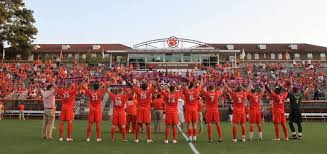 The 2017 Elite Camp I will be hosted at Historic Riggs Field, home of the Clemson men's soccer team and 2015 National Finalists!
Mon, June 26, 2017 - Thu, June 29, 2017
100 Perimeter Road
Clemson University
Clemson
,
South Carolina
29634